Happy  New Year everyone! I hope each of you had a wonderful holiday break.
Despite being many years removed, Michael and I have a few straggling pieces of college furniture yet to be replaced in our master bedroom. I'm not sure about all of you, but because our bedroom isn't out in the open for everyone to see we haven't invested in refreshing it. With so many furniture sales going on, I'm hoping to purchase new nightstands and a dresser.
Our current struggles:
We are constantly looking for more space; our closet is TINY!
Our current set is veneered and sits low to the ground. Because we allow our dogs in the room they have done a number on the black finish. Between laying up against the dresser or slinging their dog bones around, it all looks pretty shabby.
Lighting is dim and uneven; we only have one bedside lamp.
The main dresser is too high. I'd like an over-sized mirror and the ability to move my jewelry boxes onto one surface.
Here are the new furniture requirements:
Pieces must complement the one and only piece we have replaced; our upholstered king sized bed. (Crate & Barrel; Colette Upholstered King Bed in Linen)
Nightstands must have three drawers for maximum storage.
It can't be matchy-matchy; it's just not the look we like.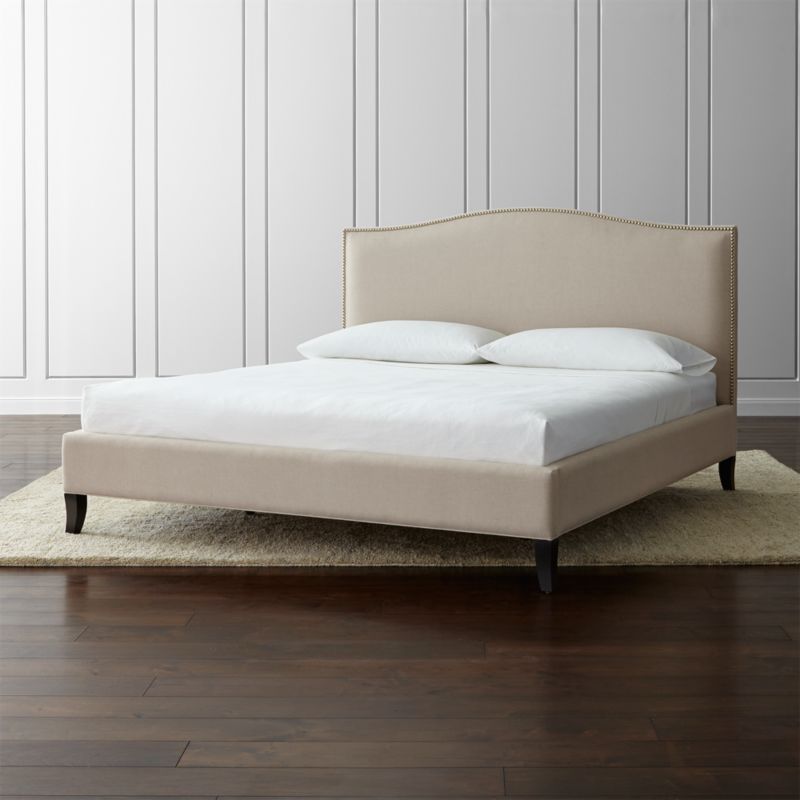 The options I'm considering and why I like each of them are below. Which do you prefer?
Option A – My mother just purchased the Kaplan coffee table from Pottery Barn and it is STUNNING. The hardware is truly a showstopper, and the natural color is warmer rather than gray. I also love that this piece is distressed to help hide any accidental nicks. The nightstands I've paired it with are neutral, but have a slight rounded front. Standing against the wall I think they could give some nice dimension.
Option B – I'm a sucker for the campaign style. I'm not sure what dresser I would pair with them, or if I would even purchase them new. There are always campaign pieces to be found at antique shops.
Option C – The nightstands have forever been on my radar from West Elm. I love that they stand high on a metal frame, making it a breeze to vacuum around and less easily damaged. The wood tiled detail provides the texture every room needs. I can envision some black framed art and articulating task lamps paired with these. The dresser is an easy choice from Crate & Barrel with metal glides and their excellent customer service policies.